OUTLOOK FOR THE ECONOMY: The New Normal is so 2010!
Date:
Wednesday, February 2, 2011
Location:
Victoria Club , 2521 Arroyo Drive in Riverside
Speaker:
Kei Matsuda, Director of Economic Research, Union Bank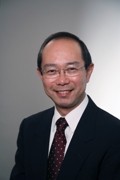 Please Join us for a very timely presentation. We are so priviliged to have Kei Matsuda from Union Bank. He is the only bank economist based in California! He will be presenting an update on the national and California economies and forecast for 2011.
Thank you to our Annual Sponsors: Ahern, Adcock, Devlin: Best, Best & Krieger: The Mentor Group.
Kei Matsuda is
Director of Economic Research
for Union Bank, a full-service commercial bank headquartered in San Francisco, California. He is the only bank economist based in the state.
Mr. Matsuda monitors economic trends and developments for UnionBank management and customers, primarily focusing on the economies

of

California and the Pacific Northwest

. He also tracks economic

trends in Asia and the Pacific.
Mr. Matsuda has more than 20 years of experience in the United States with Union Bank and its
parent company
, The Bank of Tokyo-Mitsubishi UFJ, L
imited (BTMU). He is a member of
the Economic Advisory Committee for the American Bankers Association.
Mr. Matsuda received his MBA from Stanford University, and an undergraduate degree from the University of Tokyo. He lives in the San Francisco Bay Area.
UnionBanCal Corporation
is a financial holding company with assets of
$80 billion at
September 30, 2010. Its primary subsidiary,
Union Bank
, operated
3
97
b
anking
offices in California, Oregon
,
Washington and Texas
and
two international offices,
on September 30, 2010.